Description
Yokohama's ADVAN Sport V107
ALL ADVANTAGES AT A GLANCE
Applications
Ultra-high-performance Sedans & Coupés, EVs and SUVs
Benefits
YOKOHAMA´s new flagship tyre will be launched on 24th February 2022 at 12:00hrs! Keep watching this space: https://www.y-yokohama.com/brand/tire/advan/v107lp/
Excellent dry grip and impressive wet braking performance
Ensuring high levels of reactivity, providing precise steering with driving stability when cornering, even at high speed
Premium touch, stylish dark design effect on the sidewall
Features
Exclusive new Tread Pattern
Improved Mound Profile
Matrix Body Ply Structure – high-rigidity rayon carcass material
Special new Compound – Ultra Micro Silica + Silica dispersed material
TREAD PATTERN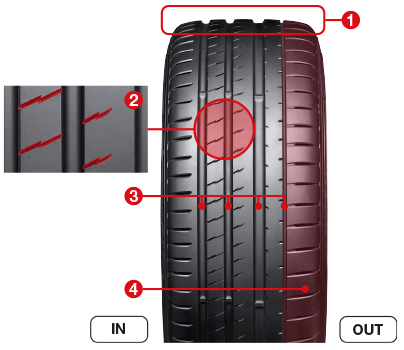 1. Improved Mound Profile: Optimises cross-sectional shape to ensure uniform ground contact pressure. Enhances stability at high speeds.
2. New shape of silent sipes: Thin slits positioned on the inside of the ribs suppress external vehicle noise.
3. Variable width circumferential grooves (wider 3+1 main grooves): Exceptional hydroplaning resistance at high speeds.
4. High-rigidity wide shoulder: Improves pattern rigidity at ultra-high speeds, realises powerful grip on dry.
THE NEW V107 STRUCTURE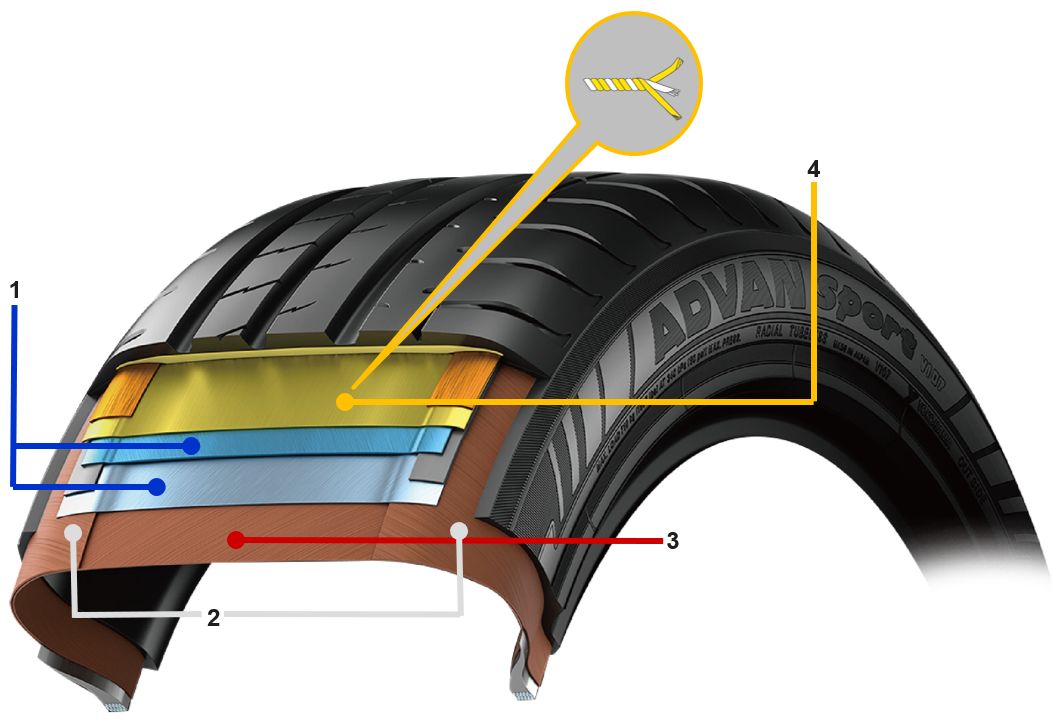 New structure equipped with proprietary united belt cover
1. High rigidity steel belts: Steel belts prevent the carcass from turning up at high speeds and improve stability
2. Matrix body-ply: It offers improved circumferential rigidity for optimum steering stability.
3. Rayon body-ply: The high-spec rayon within the body meets the demands of European car manufacturers for original equipment tyres.
4. United belt cover: Highly rigid aramid fiber is used for the first time for a Yokohama replacement tyre. It improves steering stability on dry roads.
IMPROVED MOUND PROFILE BRINGS HIGH-SPEED STABILITY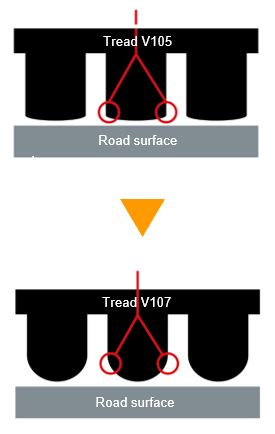 The Mound Profile optimizes cross-sectional shape to ensure uniform contact pressure. It enhances stability at high speeds.
Graphic: Before contact with road surface
Conventional tyre (V105S): Includes slight « R-shape » on each block. Optimised « R-shape » from shoulder to centre in each area.
New ADVAN Sport V107: More rounded « R-shape » on each block.
IMPROVED MOUND PROFILE, AFTER CONTACT WITH ROAD SURFACE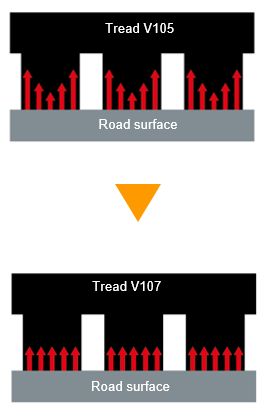 Above graphic: Conventional tyre (V105S)
ADVAN Sport V107: More optimal ground contact pressure.
In order for the ground contact pressure to be proportionate when making contact with the road surface, the cross-sectional shape of the tread was optimized.
EXPANDED ROAD CONTACT AREA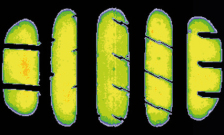 In order to provide stronger grip performance, the contact shape of the tyre is square, which increases road contact area. This is largely achieved by both the block area and groove area.
Footprint of ADVAN Sport V107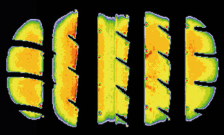 Comparison: Footprint of a Conventional YOKOHAMA tyre
MATRIX BODY PLY STRUCTURE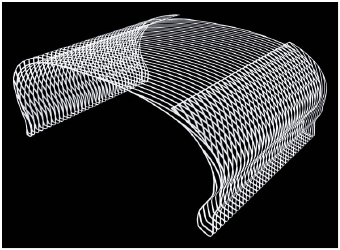 Steering precision without compromising comfort. Contributes to performance on DRY, conveying power to the road´s surface.
High rigidity rayon carcass material: Reduces energy loss, contributes to fuel efficiency. Reduces deformation, contributes to greater operability.
SPECIAL NEW COMPOUND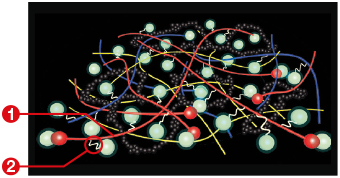 Enhances grip performance through Ultra Microsilica + Silica dispersed material.
Functionalised polymer + high strength polymer: Highly-strengthened and highly dispersive new blended polymer achieves to improve dry and wet performance.
New silane coupling agent: Adopting new silane coupling agent, finely-balanced silica improves wet grip.